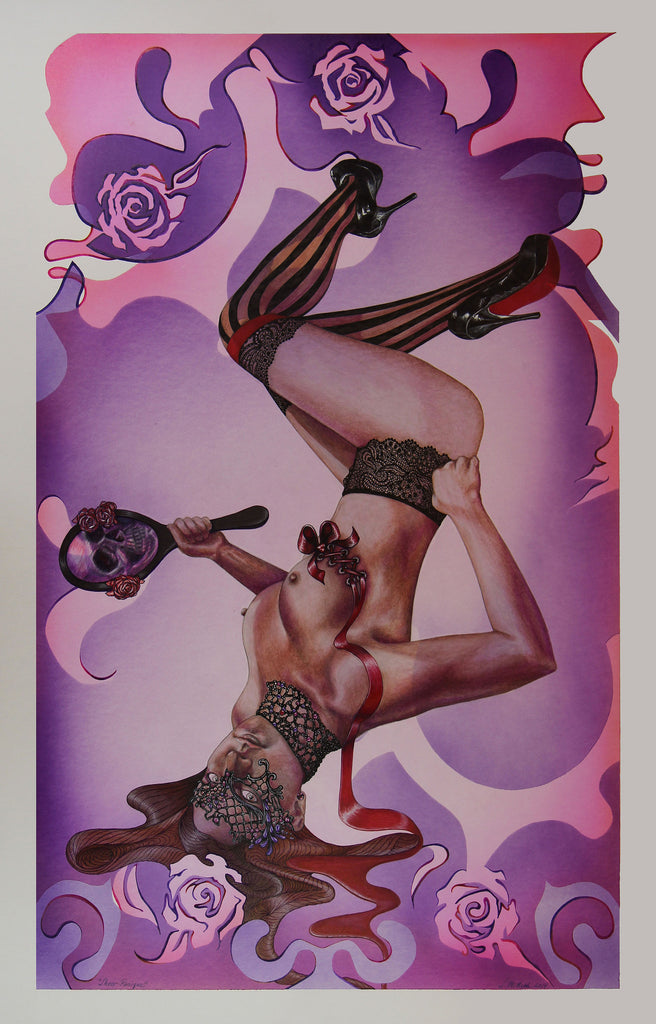 Sheer Panique
$ 110.00
CLICK HERE TO ZOOM IN ON DETAIL
(2014) I set out to shine a spotlight on the darker subtext of why women have boudoir photos taken.
To focus on the issue that I was trying to explore I took a photo of myself for this drawing. It revealed layers of anxiety I actually wasn't expecting. As I was drawing, I began to think that one day my hands could shake so bad that I might not be able to draw a straight line, or that one day I might get Alzheimer's which would rob me of knowing how to draw. Beyond the inevitable self, my gift will be recalled one day with ruminations hinged to the cruelty of the "how?". These thoughts set me into my own personal panic.
And I worked faster.
Documenting ourselves at our physical peak is an inadvertent acknowledgement of the doom of age to come; An existential panic to cling to that which will pass. We try to establish a piece of ourselves to exist forever young. It takes nerve to do this, though. It is an act of personal bravery to disrobe and pose in front of a camera - and paradoxically - we do this out of an overarching fear of our own decay.
---
"Beauty is ever to the lonely mind a shadow fleeting; she is never plain. She is a visitor who leaves behind the gift of grief, the souvenir of pain." ― Christopher Morley, American Writer, 1890-1957